La Cimbali's Sarah Dyson trains Nottingham Trent University café staff on their new M34 coffee machine
30 August, 2014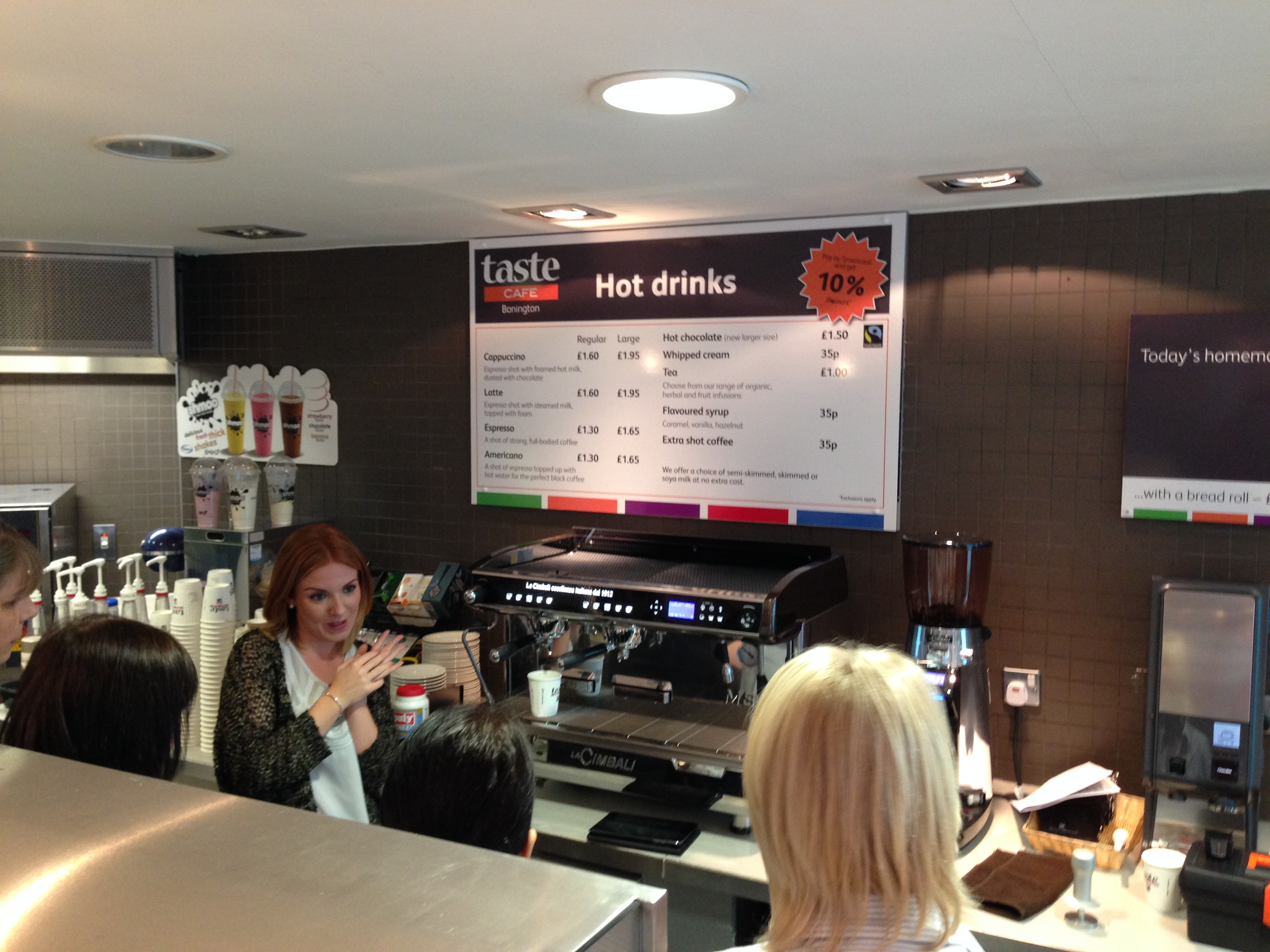 La Cimbali trains Nottingham Trent University baristas on how to use their new M34 super automatic coffee machine
La Cimbali's Sales Executive Sarah Dyson recently visited Nottingham's Trent University to train their baristas on how to use their brand new M34 super automatic coffee machine.
Nottingham Trent University is one of the largest and most popular Universities in the UK, which last year attracted over 35,000 student applications! It is particularly well known for its outstanding School of Art & Design, and recently £350 million was invested for the refurbishment of the building and facilities and in new and existing staff. The students benefit from exceptional studios, workshop facilities and industry standard equipment, and now they have the award winning, mid-priced M34 super automatic coffee machine with integral PGS (Perfect Grinding System) Magnum on demand Blue Tooth Grinder. The University is a customer of Cafeology who specialise in the finest ethical beverages, and decided to upgrade their old traditional coffee machine. Andy McClatchey from Cafeology said "They had looked at bean to cup machines as they wanted to be able to offer a consistent product for their customers. However, the perception from their customers was that the product was of lower quality when they could see that it wasn't being hand crafted by a skilled barista."
After talking through their exact requirements, customer numbers and expectations, the La Cimbali team advised that the M34 with PGS would be the perfect solution for them. The M34 coffee machine offers consistent espresso extraction and also features TurboStream 4 which allows hand free milk texturing and heating. Sarah demonstrated how the staff could get the best from this machine as well as offering practical advice on serving perfect coffee from all menus. She trained several members of staff following the installation on July 30th and they went 'live' with the equipment the following day. Over the last few weeks Sarah has received lots of really positive feedback from the University site saying that they think the M34 coffee machine is very easy to use, and they are really impressed with the quality and consistency of the drinks that it produces for students, visitors and staff.
Sarah Dyson and La Cimbali team would like to wish everyone at the University many happy years with their M34 and lots of great coffee drinking!