A great team effort at Crusoe's Longsands
23 September, 2021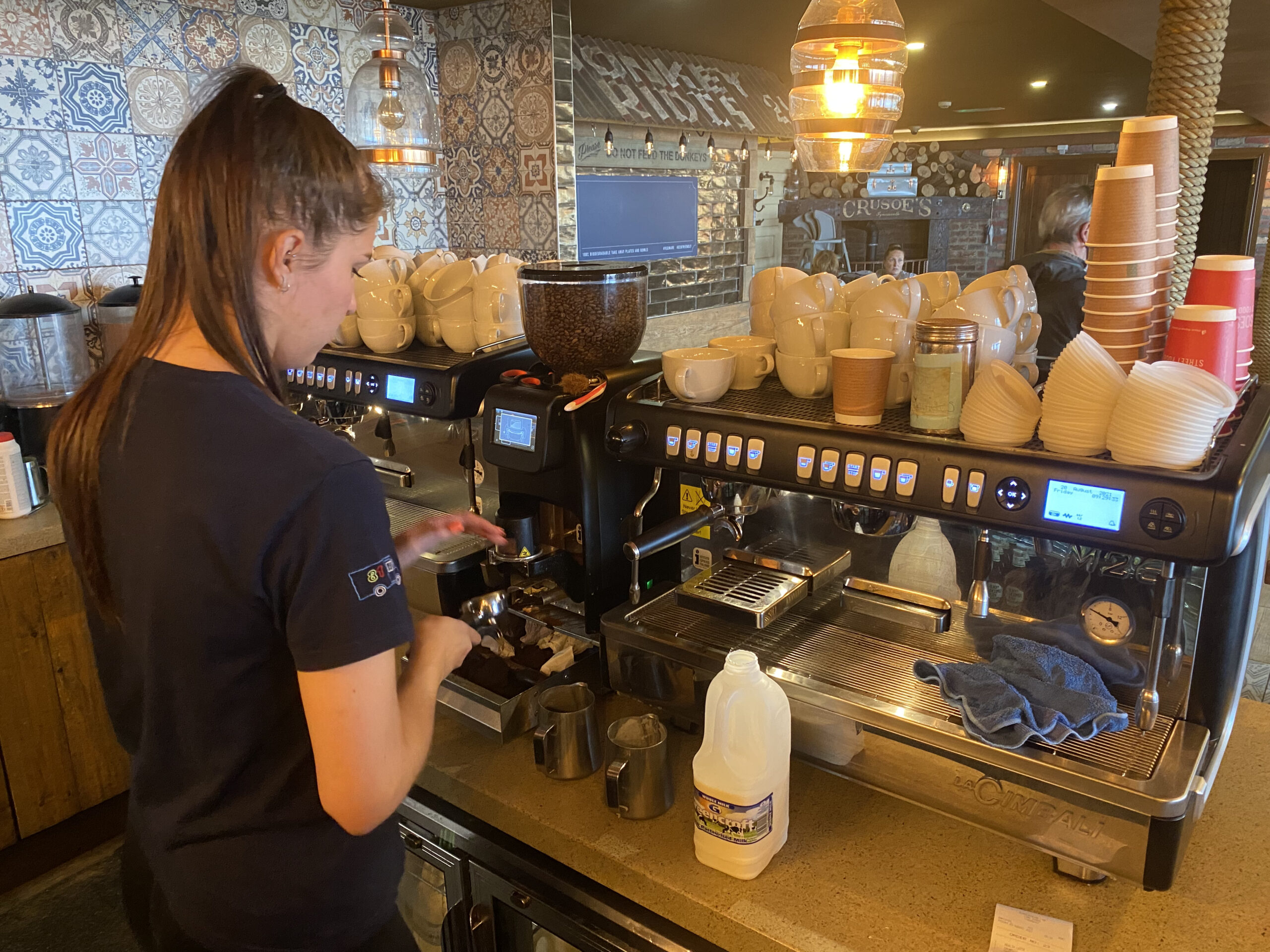 Longsands, Tynemouth, nestled in the rugged coastline of the Northeast, is an award-winning Blue Flag beach and popular year-round destination for surfers and other visitors out to enjoy the breathtaking landscape.
With a mile of golden sands, local entrepreneur, Peter Wilson could not have chosen a more inviting location to establish Crusoe's, a family-run coffee shop 'on the beach.'
The site is one of four owner-managed businesses that Peter operates in the area which includes: Crusoe's Street Food offering grilled meat and fish cooked to order and a full bar service, The View, also at Longsands. Plus, The Lock, a dine-in restaurant at Royal Quays Marina, North Shields.
Peter has operated food-based businesses in the area since 1981.
"We originally ran bakeries and coffee shops in town centre locations," explained Peter, "but as the price-driven brands moved in, we decided to move out."
"We are very selective about where we want to be and we now go for more unusual sites where the location actually 'adds value' to the customer experience. We serve great food and coffee but the fact that we are on the beach adds so much more to the mix and means we can offer something not available elsewhere."
Ringtons Beverage for Business adding value with expert advice
To help develop and manage the speciality drinks menu at Crusoe's, Peter partnered with the Beverages for Business team at Ringtons a local, independent coffee roaster and tea supplier.
"Paul Hodgson and the team at Beverages for Business have been a great help to us because they took time to understand what we are trying to do and the type of operation we are trying to build."
"The Ringtons team are very knowledgeable, and they gave us lots of added value advice such as ways to improve our workflow to speed up service and tips for reducing wastage which is invaluable because it has an impact on our profitability."
Peter received guidance on the best equipment to use; how to build seasonal drink menus; advice on increasing revenue from coffee and tea sales and the ingredients needed in order to deliver the best coffee possible within the Crusoe's set up. 
Brewing up 6000 coffees a week
As Crusoe's serves up an impressive 6000 coffees a week across the sites, getting the coffee offer right was critical.
"Over my time in business, I've used many brands of coffee machines. But the only one that has been able to cope with the volumes of coffee we serve is Cimbali. In my opinion, Cimbali is the Rolls-Royce of coffee machines."
The 350 cover Crusoe's has taken delivery of three Cimbali M26 traditional coffee machines and Elective Grinder-Dosers, with Ringtons and La Cimbali providing installation and on-site training for the barista team.
"I've used automatic machines in the past and the coffee was excellent. But our customers like to see the coffee being brewed, they feel they are getting a better cup of coffee. So, we have traditional machines this time round to keep the customers happy. They just love the coffee, which is all that matters, and the machine is very easy to use which obviously helps the baristas, especially when it's busy."
Ringtons award-winning tea and coffee blends
Ringtons supply Gold Tea, a luxury 100% Kenyan blend sourced from east of the Rift Valley, one of the world's finest tea-growing regions. Bright and golden with a full, refreshing flavour, Gold, is one of Ringtons best-selling teas.
In terms of coffee,  Crusoe's serve one of Ringtons most popular espresso blends, a combination of natural and washed coffees, medium to dark roasted, with a cocoa, liquorice sweetness and spicy profile. The key factor for recommending this coffee was how well it works on its own but also with milk, which makes up the majority of the coffees sold across the businesses.
Paul Hodgson, Sales Manager for Ringtons adds, "Peter reports that despite lockdowns and the challenges of the last 18 months, his business has enjoyed a record year.
"It just goes to show that if you get your beverage menu spot on, then everything else will fall into place. That's exactly what they've done at Crusoe's and we are delighted to have played a part in that."