Our new self-serve 'coffee to go'
23 March, 2020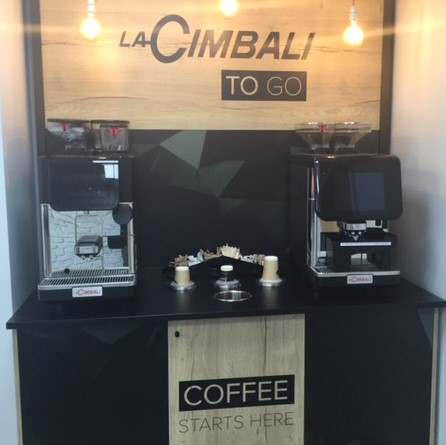 Our new self-serve 'coffee to go' concept allows forecourt operators to tap into the lucrative coffee shop sector, with a proven format that delivers great tasting coffee consistently, combined with the potential to drive maximum profits.
The Cimbali 'coffee to go' features our award-winning S20/S30 machines, which benefit from numerous patented technologies that manage key aspects of the brew cycle in order to guarantee the quality of the finished drink.
With user friendly, fully customized touch screens – these high-tech machines are easy to use and offer the full range of speciality coffees including lattes, cappuccinos, espresso and Americanos, plus hot chocolates.
The system offers numerous payment options including cash; card; contactless and tokens with seamless till integration if required.
The format also includes a dispense area for cups and consumables plus under counter storage space, all housed in a bespoke unit which is designed for each customer to guarantee the best use of the space available and therefore ideal in retrofit applications.
An integrated telemetry system provides essential management information on key measurement parameters including consumption levels, machine performance and service needs, which is accessed via Wi-Fi and can be viewed remotely.
"Consumers are becoming far more discerning these days, expecting better coffee quality and a wider range of drink options, so operators have to work that bit harder for the coffee spend," said Oliver Watt, Channel Specialist, La Cimbali.
"La Cimbali technology combined with our sector know helps deliver the standard that consumers now expect to see in a format that is user friendly, hassle free and fully supported by our nationwide team of service engineers.
"As well as increasing footfall, selling quality hot beverages is a great way to drive sales of additional product lines as invariably someone who stops by to pick up a coffee will also purchase a bakery item or other food items too. As consumers will go out of their way to pick up a coffee through the working day if they know they can rely on the quality, it's a great way to build brand loyalty too.
"For forecourt operators looking to create new revenue streams, our business model is an attractive proposition. We are offering total control to the operator, allowing them to choose and adapt their menu, pricing and machine options, in order to create a bespoke solution for their outlet and ultimately their customer."