Ways to cut down on your daily coffee costs without drinking less coffee!!
22 September, 2016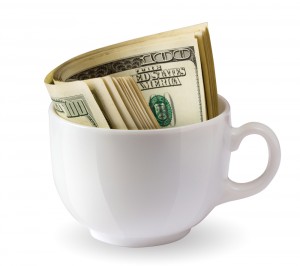 For so many of us these days, functioning without our morning cup of coffee is just not going to happen!  A morning espresso is often part of our daily routine like brushing our teeth….but if we buy our coffees from cafes and train stations on the way to work or the gym, even just two or three cups can really add up cost wise. Plus costs can vary considerably depending on the extras we may add, and fluctuate with the cost of coffee beans and if high end coffee makers and equipment are also involved.  Of course there is a cost (although smaller) when we make our coffee drinks at home too.
So here in this blog, we give three ways to help keep your costs low without comprising you daily coffee fix!
Don't use single serve coffee packets. We all know that buying in bulk always means cheaper.  While they are convenient, once you calculate the cost per cup, as well the pot you need to brew, the costs of brewing at home soon mount up. The convenience may not outweigh the costs especially if you are drinking three of more cups a day.  Buy beans and grind fresh.  The long-term investment of a grinder will outweigh the cost of throwing stale coffee away.
Try cold brewing. This is simple! Cold-brewed coffee just involves soaking ground coffee beans in cold water for a long time.  This enables the flavour to become deeper and richer and you avoid the cost of laying out for a coffee pot! You just need a water bottle, a fine sieve, a large glass and maybe a coffee filter.  Grind up your beans coarsely, add half a cup of ground beans to a water bottle and add three cups of water. Shake up a bit, and then put it in the fridge for at least 12 hours. It will need sieving when it comes out but will be fantastic concentrated coffee!
Become a loyalty member at your regular coffee stop. It seems that every retail environment or business has a loyalty scheme these days.  Coffee shops are no different, with most having a loyalty programme offering discounts and free cups.
We hope these tips will help you trim down your coffee bill without reducing your coffee consumption!