Rob Ward reflects on another great London Coffee Festival!
11 April, 2017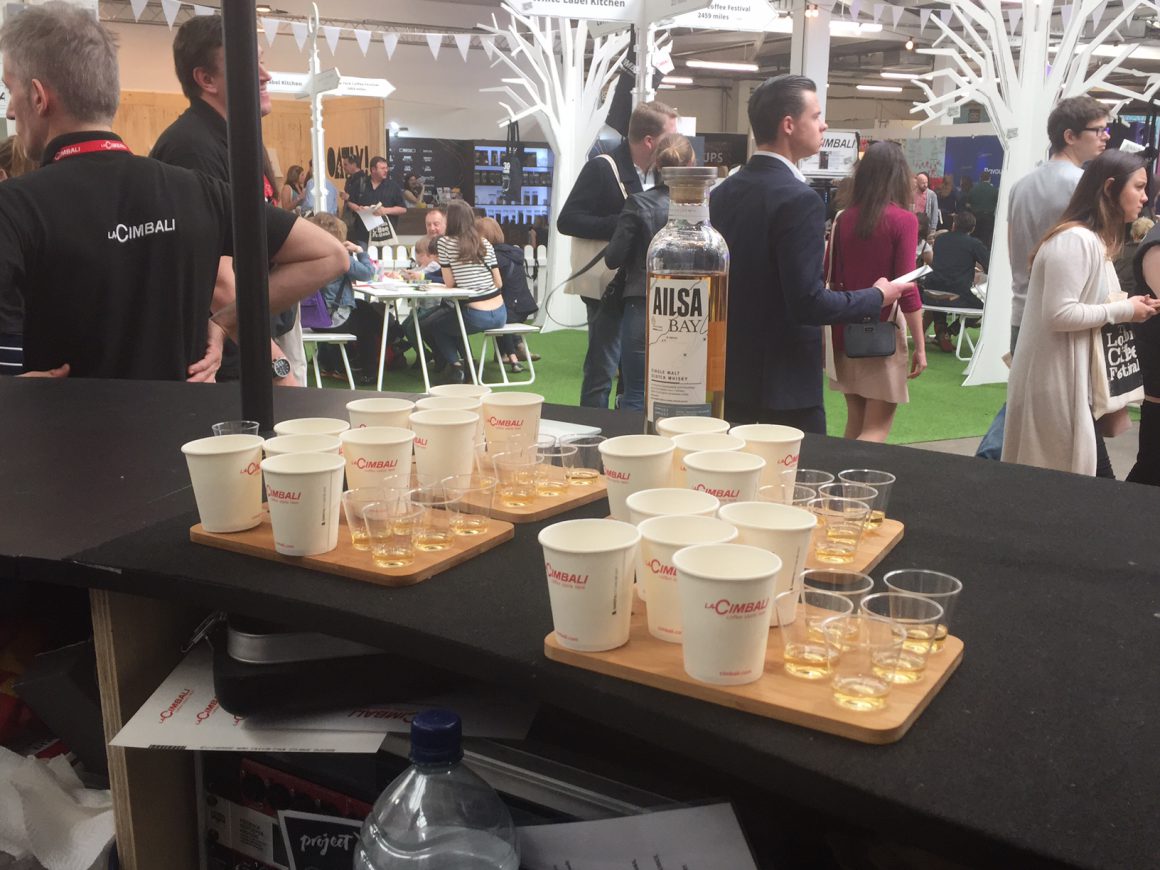 "Last weekend's London Coffee Festival was once again a great event and we had a really good response from visitors who came to see us at our stand and at the main stage in the Hyde Park Area.
One of the main things that blew people away was the S30 coffee machine's ability to produce a real Artisan Style Espresso even though it's a Bean to Cup machine, but obviously, the PGS shots were coming out consistently all day long.  We featured not just one Espresso, but in the Hyde Park Area – three -Nicaraguan Red Pacamara from the El Limoncello estate with three different process methods – Washed, Pulped Natural and Natural.  The difference in these coffees was remarkable and tasting uber delicious. On the main Cimbali Stand, we had three blends from – Volcano Coffee, The Mount Blend, Firehouse and Full Steam Espresso, which is a single origin Peru, as well as 99 Espresso from Lincoln & York.
Behind the bar we featured three coffees that we had paired with our Coffee Meets Whisky experience using Whisky from one distillery (Glenfiddich) and one roaster – Has Bean.  This time we showcased the differences in origin, with an Indonesian Washed Peaberry, Natural Guatemalan, and a Natural Burundi.  The three Whiskies that we featured were two experimental Whiskies, a 9% IPA barrel conditioned Whisky, and XX (Twenty) which is made up of barrels selected by Whisky experts from around the world and then blended by the Master Blender and a Malt Masters Sherry Cask.  Every session was sold out before the start of the show!  After tasting the three coffees, three whiskies and three handcrafted sugar syrups of Demerara, Dark Muscovado, and Molasses (made by myself), we made a demonstration more traditional Irish Coffee (pardon the liberty as we were using Scottish Whisky) with a longer coffee made in clever dripper and then an example of my modern take on the Irish Coffee in a short glass. We used the M100 HD coffee machine with its pressure profiling technology to brew the shots at 6 Bar to deliver more mid-palate flavours and complexity and make much more dessert like. Then we opened it up for each guest to build their own flavour layers with any Whisky, Coffee and Sugar Syrup from each of the three choices.  Tim Medley, Cimbali UK's own Specialist Aftersales Trainer worked relentlessly behind the scenes to deliver timely shots to help create each of the six-eight signature Irish Coffees for each guest and create a unique flavour experience with myself and Lewis.
On the Main Stage three times a day, I was joined by Lewis Hayes from The London Bar Consultants who has two amazing bars in London, both called Mansion House. He had picked three Whiskies to go with the three processes in the Nicaraguan Pacamara which included Balvenie Double Wood for the Natural, Ailsa Bay to go with the Pulped Natural and Glenfiddich 12 to compliment the Washed.
We also did an impromptu session for Katy Hurt and her band on Sunday, whose EP was released that day and were playing on the main stage. The guitarist from her band was really into coffee and has his own Espresso machine, so we gave him some of the Burundi Natural to brew for the band and help keep them awake on tour!
Rohan Pitumpe, our UK Latte Art finalist, was as ever in full flow showing off the amazing TurboSteam4 Cold Touch on the S30 coffee machine and running the Latte Art Throw Down with Oliver Watt (one of our new Sales Team members). The amazing prizes were donated from Volcano Coffee and Lincoln & York, including a coffee subscription for the winner to Volcano Coffee.
All in all, it was a fantastic full on four days of Coffee, Whisky, Latte Art and great Coffee conversation and chat!  
For me now, I am looking forward to heading off to RE:CO and the Global Specialty Coffee Expo in Seattle from the 19th April  – just a week away!" For more details click here.
Rob Ward, Group Coffee Specialist, Cimbali UK.