La Cimbali UK team in good spirits after Caffe Culture Show
18 May, 2015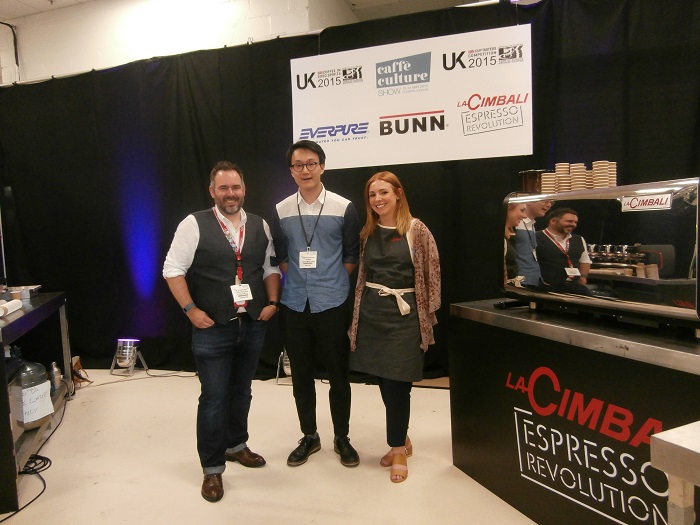 La Cimbali's Coffee Specialist, Rob Ward reflects on last week's Show.
"Once again we had another great Caffe Culture Show. The event was vibrant and buzzing as always, and we were really thrilled to be part of it.
As the headline sponsor for the Coffee in Good Spirits (CIGS) competition, our award winning M100 espresso coffee machines with magnum on demand grinders were kept very busy as the competitors made their exciting and innovative coffee and cocktail creations!
All the baristas and bar tenders who entered the contest showed boundless passion and imagination, so the judges had a very difficult task to crown just one winner. But, there could only be one winner, and the judging team, who included the World CIGS runner up from last year – Martin Hudak, crowned Sang Ho Park from Korea as the eventual winner, with Maja Jaworska in second place. Well done Sang Ho! He made some truly amazing coffees and cocktails and his fabulous prize is a trip to the Mumac museum and Cimbali factory in Milan.
Sang Ho will now also go on to represent the UK at the World Coffee in Good Spirits competition, which is part of the Nordic World of Coffee event. The show takes place in Gothenburg, Sweden, between 16 – 18 June, and we will also be there with the Gruppo Cimbali international team.
I would like so say a big thank you to everyone who came along to see us at our stand during Caffe Culture and we hope to see you again next year!"
For more details about the Nordic World of Coffee show visit: www.worldofcoffee-nordic.com