The La Cimbali team are exhibiting for the first time at ScotHot show
16 February, 2015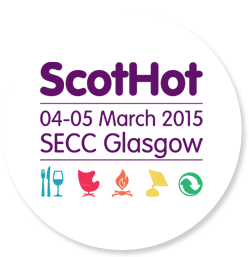 Launched in 1973, ScotHot runs every 2 years and is Scotland's largest hospitality, tourism and catering show. This year it's being held at the SECC in Glasgow on March 4 & 5, and will be opened by the Minister for Business, Energy and Tourism as part of Scottish Tourism week.
It is the definitive event for the Scottish hospitality, tourism and catering industries and is a fantastic opportunity to see 100s of the latest products from over 200 suppliers, be inspired by live culinary cooking demonstrations, and stay on top of industry developments. There is a full and exciting programme of events and competitions, and this year, the best coffee in the country will be made, as the UK Barista Championships will take place in front of a live audience.
20 of the UK's top baristas will compete in front of a live audience, and test their all-round coffee knowledge, presentation, and preparation skills. They will get 15 minutes to set up their work area and then 15 minutes to make 4 espressos, 4 cappuccinos and 4 espresso based non-alcoholic speciality drinks. The winner will go on to represent the UK at the World Barista Championships in Seattle in April.
This is a new event for La Cimbali, whose stand (number 4454) will be right across from the UKBC stage where the UK Barista Championships final will be taking place, so very easy to find. Visitors can pop along to taste an espresso, prepared on either the M34 coffee machine with the award winning PGS Magnum on Demand Grinder, or on the even more impressive M100 HD with its clever pressure profiling technology. The M100 HD also features Cimbali's exclusive thermal system consisting of twin Heat Exchanger pre-heating system, independent group boilers which are hard wired to a solid metal group giving complete temperature control of each group, and is the ultimate traditional espresso machine.  It is packed with many features to ensure that it delivers the very best espresso & speciality coffee experience, with an exterior that oozes style and flair.
La Cimbali's Coffee Specialist Rob Ward, and Head Barista Matt Lasek will be on hand to demonstrate their coffee machines for all types of business. Rob, Matt and the rest of the team are really looking forward to being at the show, and would particularly like to wish the competing baristas very good luck!
For more information please visit: www.scothot.co.uk