La Cimbali reflect on another great Cup North show!
13 November, 2015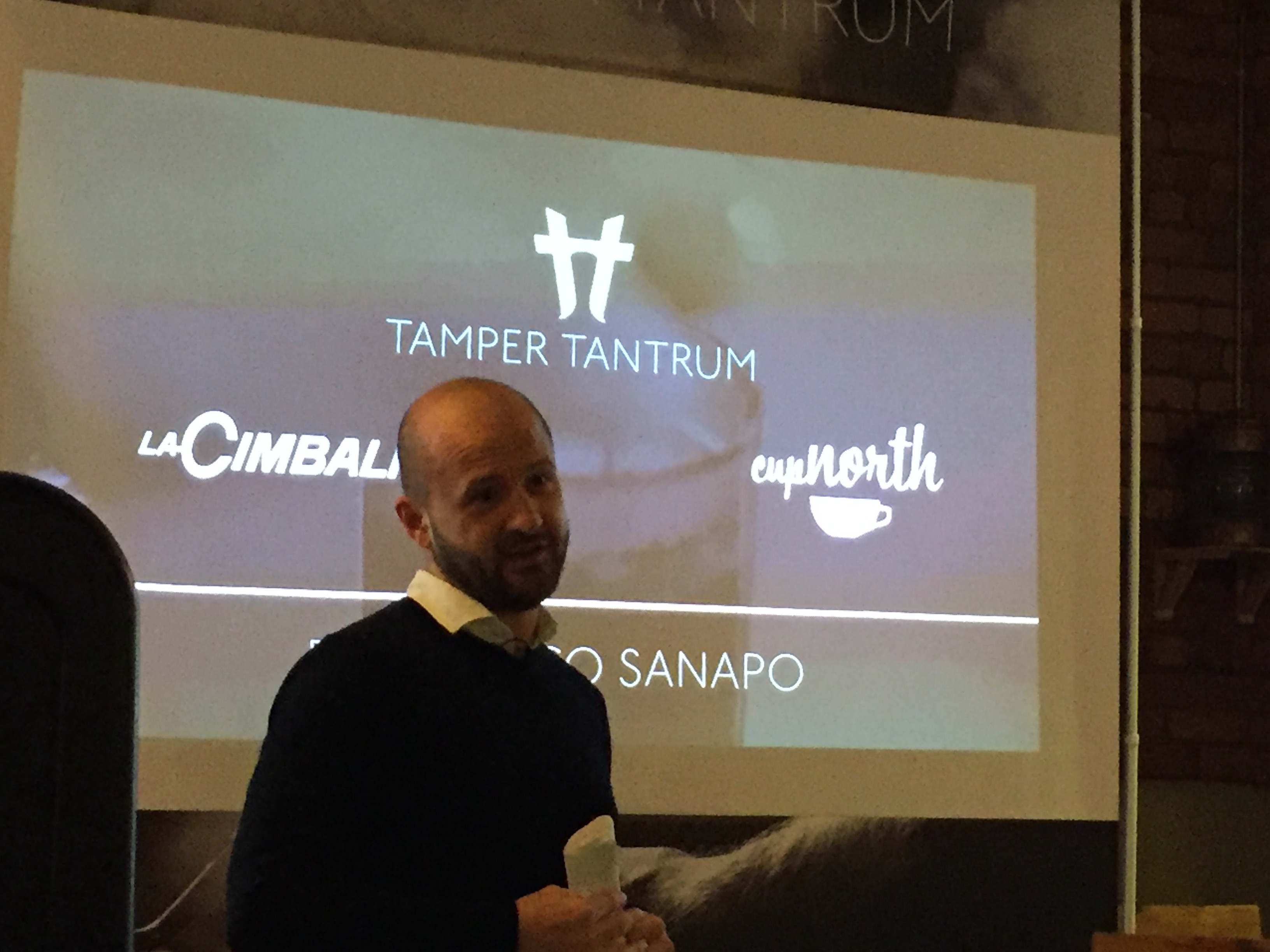 La Cimbali's coffee specialist Rob Ward is back from Cup North and reflects on the event's highlights.
"La Cimbali's involvement and support of Cup North and the northern coffee scene continued for the 2nd Year, and as Lead Sponsor for Tamper Tantrum -the line up of speakers this year was set to impress. Colin Harmon and Steve Leighton took hold of the reigns for the Tamper Tantrum sessions and introduced speakers such as Francesco Sanapo, Gordon Howell and Mat North. There was a wide variety of subjects including; barista attitude, coffee brewing, water and looking at 3rd and 4th waves. These talks will appear online at Tampertanrum.com in due course.
On Saturday I was very lucky to be MC for the UK Cup Tasters finals that saw a tightly challenged final between Gayan from UCC, Katelyn from Avenue in Glasgow, and  Sonali from Selfridges. In the end Gayan held his cool and scored an incredible 8 out of 8 cups in the final round, with Katelyn 2nd and Sonali 3rd. Helping me with my MC duties was David Jameson from Union Hand Roasted.
The team from Dark Woods Coffee were on hand on the La Cimbali stand showing the latest versions of their blends and roasts, with Under Milk Wood proving a strong favourite in both milk and as an espresso, and their Arboretum blend showing a more complex and dynamic tasting espresso – my overall favourite from the team. Damian, Paul and Ian were on hand to talk about the current blends, origins and roast profiles that they are using and educating the public in the subtleties of flavour within the coffees, as well as providing delicious drinks from the La Cimbali M100 HD coffee machine.
Sarah Dyson from the La Cimbali Team was busy working on the M34 coffee machine with bluetooth and two linked grinders showing the PGS technology, as well as TurboSteam 4 showing how technology can help busy operations drive and improve consistency to the customer. Sarah also ran the La Cimbali Sensory Challenge where visitors were invited to assess five taste solutions (Bitter, Sweet, Malic Acid, Citric Acid, and Salt) as well as guess six Aroma compounds (Garden Pea, Blackcurrant, Butter, Caramel, Roasted Peanuts, and Roasted Coffee), with the chance to win a MUMAC Museum book plus 'How to Make Coffee: Science behind the Bean' by Lani Kingston.
This was not only a fun competition and challenge but also some interesting research for me on how people taste and perceive, taste, aroma and flavour. I can reveal that only 1 in 4 people who took the challenge scored everything correct! This was quite a surprise in the environment that we were surrounded by and really shows our responsibility as coffee professionals not to assume but to help educate and inform all who we work with – the What, the How and Why we do certain things to help take our customers on a sensory journey that specialty coffee is capable of taking us on.
We are pleased to announce that the winner, pulled at random from the 100 percenters is Tom Finch who visited the La Cimbali Stand on Saturday, congratulations! Your prize is on it's way.
Thanks everyone for another great Cup North show!"