Carl Bjorkstrand reflects on his recent visit to Gruppo Cimbali in Milan and MUMAC
27 July, 2015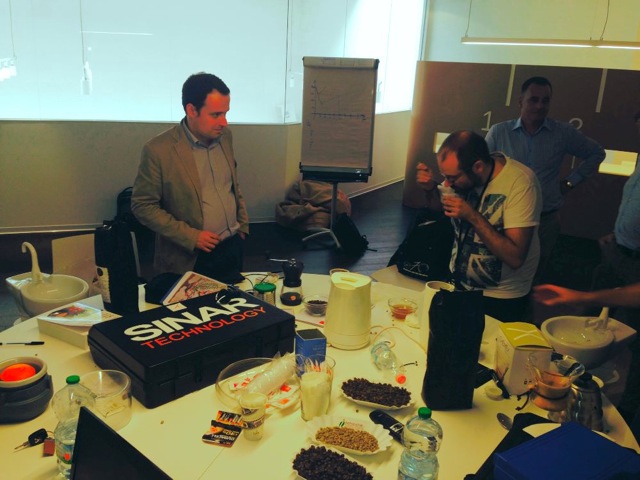 Carl Bjorkstrand, Managing Director of La Cimbali UK has recently returned from a trip to Gruppo Cimbali headquarters in Milan, which also included a visit to MUMAC – Museum of Espresso Coffee Machines. Carl reflects on the success of the trip and how he was impressed by the use and versatility of the MUMAC facility.
Says Carl "I always enjoy my visits out to Gruppo Cimbali headquarters in Binasco near Milan. The building is vast, and houses four production facilities with a total area of 85,000 sqm of which 46,000 sqm is indoors. Although they are always business trips, they never feel like work, as the people I meet with are so welcoming and passionate and love anything and everything coffee!
As part of my trip this time I popped into MUMAC. MUMAC was opened in 2012 to celebrate 100 years of Gruppo Cimbali. It was the first and largest permanent exhibition devoted to the history and culture of professional espresso coffee machines. It presents an overview of more than 200 coffee machines and 15,000 documents and valuable audio-visual materials, which are displayed in a way to ensure maximum viewing and engagement.
As well as a museum for coffee machines, MUMAC is also a centre for coffee excellence and training. Whist there, I came across a lot of activity in the cupping room where a well-known Italian artisan roaster – Paolo Scimone was roasting and cupping Arabica beans from the highlands of China. It's very unusual for this coffee to reach Europe, so it was really interesting to see how Paolo was homing in on the best roasting parameters.
We are always hosting people from different areas of the coffee world, and positively encourage them to come and make use of the great facilities that we have to increase coffee knowledge for everyone."
For more information regarding MUMAC please visit:
For more information regarding Gruppo Cimbali please visit: