La Cimbali UK's customer Brodies, partner with Scotland's prestigious Aurora Hotel Collection
12 December, 2014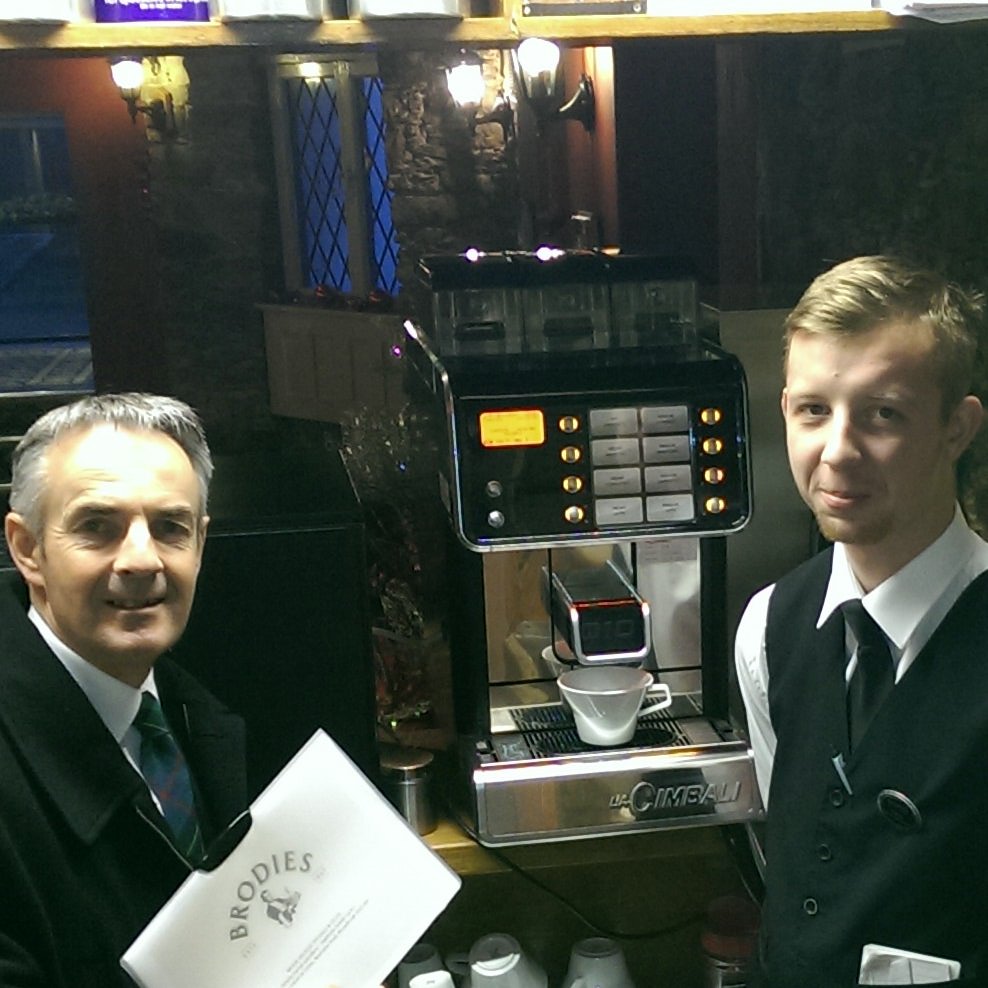 Cimbali partner with Brodies, of Edinburgh
Brodies have been coffee and tea merchants in Edinburgh for nearly 140 years, supplying their customers with quality teas and freshly roasted coffee, skilfully blended in the traditional way. Today, not moving too far away from their traditional roots, they now offer a complete catering solution for their customers by providing award winning speciality cakes, handmade chocolates, Fair Trade products, crockery and hotel room service sachets, plus the very latest coffee machines and equipment from La Cimbali UK. Brodies also offer a retail range of their merchandise in leading department stores, specialist food halls and at UK tourist visitor centres.
Brodies are very excited as they have recently won a new contract for the prestigious Aurora Hotel Collection group of hotels in Scotland. As an appointed distributor for La Cimbali UK for over 10 years, they have just installed the super automatic Q10 PS CS11 coffee machine with counter top fridges at 4 hotels, and will install 3 more in the New Year. The Q10 is a machine that is easy to use, versatile and compact. It is able to deliver a complete beverage menu plus chocolate option, and designed for those locations with a production rate of up to 100 beverages per day. It features either a push button panel or a touch screen,
The Aurora Hotel Collection includes the Cairn Lodge near Gleneagles in Perthshire, the newly refurbished Victorian landmark Colessio near Stirling, Airth Castle and Spa in the central Scottish countryside and the Kenmore, which is Scotland's oldest hotel and steeped in history.
Brian McGregor, Sales Director for Brodies said 'We are delighted to be working with the award winning Aurora Hotel Collection and the La Cimbali Q10 has proved a vital part of our comprehensive coffee service solution for the group."
Sarah Dyson, La Cimbali's Sales Executive who works closely with Brodies added "We are thrilled to be working with Brodies on this prestigious account. The Q10 CS11 Chocolate is the perfect solution for the Aurora Hotel Collection, and we have been working closely with Brodies and each site to create the perfect menu selection and drink recipes to suit their customers' requirements."
For more information regarding Brodies and The Aurora Hotel Collection please visit:
www.brodies1867.co.uk
www.aurorahotelcollection.com