The La Cimbali UK team and their customers play for the Golf Challenge Trophy at Goodwood Park Course
27 October, 2014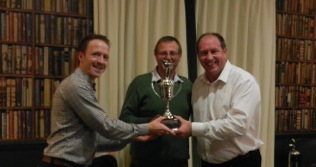 Cimbali UK coffee machines – on par –  at Goodwood!
Recently, the La Cimbali team took some time away from their Espressos and coffee machines for a spot of golf with their customers, and played for the La Cimbali Golf Challenge Trophy. Every year a different golf course is chosen, and this year it was at Goodwood.
Goodwood is a picturesque golf course in West Sussex, which has recently been ranked as 59th in Golf World Magazine's Top 100 English Courses, and is 'home' to the English PGA Championship.
There are two courses – The Park Course, which surrounds the flint walls of Goodwood House and is bordered by three hundred year old Cedar trees, is the less challenging, but it's still tricky to keep any golfer on their toes! This course is perfect for all golfers of all ages and abilities, and measuring 6,550 yards of luscious greens and fairways around Goodwood House. The Downs Course, which rises steeply from the clubhouse and is perched high on the South Downs, gives golfers incredible views of Chichester Cathedral, down to the Isle of Wight, and beyond. The course is the ultimate golf experience for the avid golfer and is the course that the La Cimbali team and their customers played on.
The teams, led by a La Cimbali staff member, were very lucky with the weather – a clear bright day with a gentle breeze. Carl Bjorkstrand, Managing Director at La Cimbali said, "We were all really looking forward to our day out, and from the start the Goodwood staff were great, really flexible, and tailored our day to exactly match our needs. On arrival, we were taken to our personalised locker room, allocated caddies, given a briefing and detailed instructions by resident PGA professionals, who also answered any questions, provided with all the necessary equipment – buggies and course planners etc. before we were taken to the green to tee off!"
Carl continued, "We all really enjoyed the day. It was a completely different way for us to spend time with each other and our customers, and productive as well as great fun in an exceptional environment. David Turney from Peros who is an excellent golfer was the overall individual winner of the La Cimbali Golf Challenge Trophy, Mike Abrams our Sales Manager led the winning team and Craig Smith our IT Systems Administrator 'won' the wooden spoon! We all had a fantastic day and the Goodwood team provided a first class service from start to finish."
The photo is of David Turney from Peros receiving the trophy from Carl Bjorkstrand and Matt Tuffee, Sales and Marketing Manager.