A week to go until the fabulous Hotelympia opens
22 February, 2016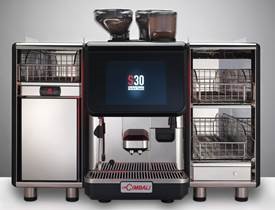 Monday 29 February is not only an extra day for 2016 but it also sees that start of Hotelympia at the ExCel, London. The show runs for four days until Thursday 3 March, 10.00am – 5.30pm each day.
The La Cimbali UK team can be found at Stand 1440 where they will be showing off their comprehensive range of top quality equipment which all deliver a consistent in cup quality across the speciality coffee menu. The range is extensive, including traditional espresso machines through to the superautomatics which are richly designed to each meet the varying needs of the market.
The team's focus at Hotelympia will be the launch of the S30 coffee machine with its IoT technology. The S30 with its Touch Revolution is a new generation of 'super smart' superautomatics that optimise the beverage offering, and feature future proof technology that provides a powerful management information system whilst delivering exceptional coffee quality.   At the heart of the machine is the touch screen display intuitive graphic interface with integral cloud based network connectivity for the two way exchange data.
The tempered glass touch screen can be fully customised by the user using the extensive menu selections which include; screen savers, video clips, LED lightning, live news feeds and even personal branded messages. When all of this is put together the S30 becomes an extremely powerful sales tool – particularly when used in the self-serve mode. Plus, using the bi-directional Wi-Fi, the S30 can also be monitored remotely for quality control, consumption, output levels, picking up any faults, maintenance and cleaning. All the data can also be viewed using a smartphone, tablet or PC too so the machine can operate at its best minimising the service cycle.
La Cimbali's coffee specialist Rob Ward says "The S30 superautomatic coffee machine really takes coffee machines to another level. This machine is the perfect choice for quick service operation where it needs to perform under pressure. Plus, practically, anyone who is used to working on a super automatic machine in a pressurised environment where metal can reach extremely high temperature will really appreciate the cold touch steam wand too. Please pop along and see us at our stand where will will show you everything that this amazing machine can do!"
It's not too late to to register as a visitor for this great show, simply click on this link below:
https://www.livebuzzreg.co.uk/2016/hot16/visitor/
For more details regarding Hotelympia visit:
ExCel London – 29 Feb – 3 March – 10.00am-5.30pm.