My Pasta Bar launches with Cimbali M53
19 August, 2013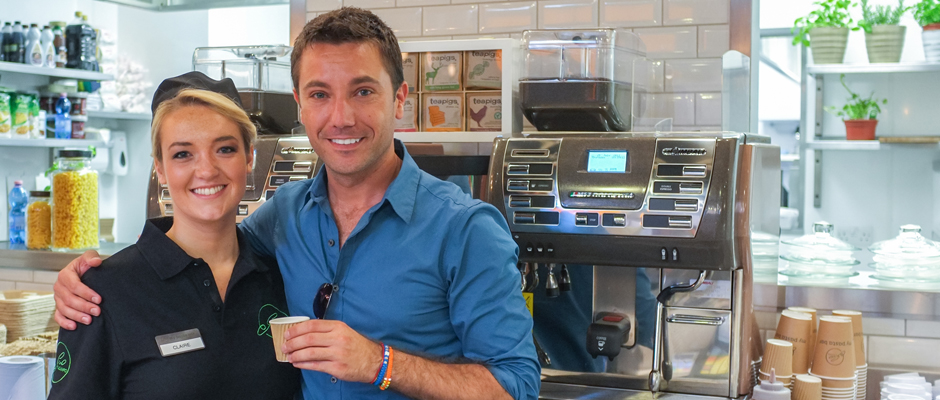 Authentic Italian cuisine meets authentic Italian coffee
Gino D'Acampo's new 'fast and fresh' food to go concept My Pasta Bar has launched in London with the speciality coffee menu delivered courtesy of  Cimbali, the multi award winning pioneer of authentic Italian espresso and the world's largest coffee machine manufacturer.
Given the quick serve environment and the need to deliver consistent in cup quality, Cimbali specified two M53 super automatic machines for My Pasta Bar.  "The team just loved the authentic taste of the espresso produced by the M53,"   said Matthew Tuffee, Cimbali's sales and marketing manager. "We demonstrated the Turbo Steam arm which heats large amounts of milk 'hands free' and the Turbo grinder which creates consecutive shots of espresso allowing fast service with no queues at the till even at peak periods.  When the team could see how easy the machine was to use I am very pleased to say the deal was done."
Serving authentic Mediterranean dishes including made to order pasta,antipasti, salads, pastries, artisan breads and desserts, My Pasta Bar brings the best of traditional Italian cooking to the capital, updated to reflect modern tastes and lifestyles.  "My delicious, yet uncomplicated pasta dishes will really appeal to busy people wanting to enjoy quality food on the go," explained Gino.   The customer experience is further enhanced by the 'bustling Italian marketplace' in which My Pasta Bar is set.
The Cimbali M53 is a feature rich, top quality machine which incorporates patented technologies which maximise performance and reliability whilst delivering optimum taste and quality. This workhorse of a machine capable of producing 260 cups of espresso and 190 cappuccinos per hour.  "Easy to use even with minimal training, operators can rely on the M53 to always deliver 100% across the menu leaving staff free to concentrate on serving food and keeping customers happy," said Matthew.
For further information on Cimbali's traditional and superautomatic coffee machines, grinders and new award winning PGS technology visit www.cimbaliuk.com
-ends-
Media contacts:  Jane Newick, The Wordbox, tel 01483 243671,  07907 566773, jane@thewordbox.com