Hey Frankie!
3 May, 2013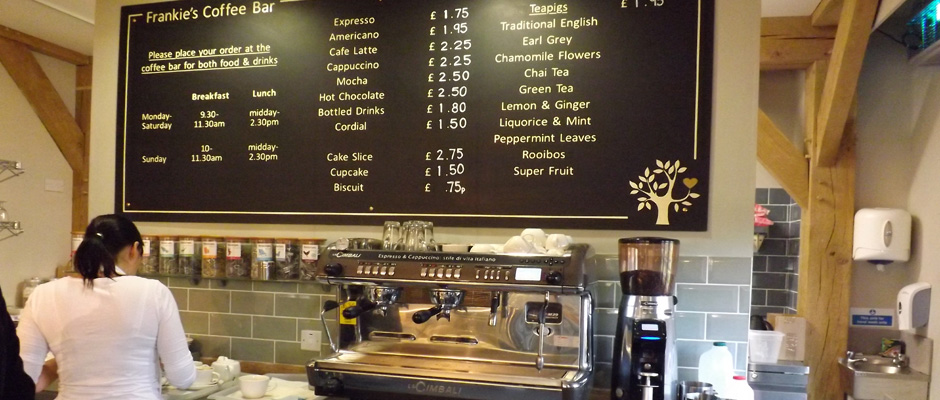 Just when all the baubles and tinsel are back in the loft and the Christmas tree has seen far better days, man and wife team, Marcel and Frankie Franke of Staplehurst Nurseries start thinking about the following festive season. For as well as selling a broad mix of carefully selected plants to the general public, the Nursery supplies 55,000 Poinsettia, the red flowered plants which are popular at Christmas time, to supermarkets all over the UK. So what has this got to do with coffee I hear you ask.
After 16 years in the nursery business, the duo were ready for a fresh challenge. So in 2011 they embarked on a new venture – Frankie's Farmshop – a gourmet coffee shop and deli in the heart of the Kent countryside.
"It wasn't a complete leap of faith", Says Marcel. "We had spent 3-4 years thinking about ways of expanding the garden business. We went along to a couple of conferences organised by Farma, which involved site visits to deli/farm shop operators around the UK. We had the opportunity to talk to other people and to hear of their experiences and learn from their mistakes. We are close to London, in a wealthy area surrounded by rolling fields, we felt confident we could make a success of it. There are plenty of other garden centres with coffee shops around here but we saw that as a bonus as many people will visit a couple of places in one day."
So a decision was made and within one year, Marcel had built a traditional Kentish style barn, a light and airy space complete with a stunning oak framed interior which creates a real WOW factor when you walk in. Contained within the 415 sq m floor space is a 48 seater coffee shop, a deli counter and retail area which sells local artisan produce wherever possible. Seating for a further 30-40 covers is available outside on the terrace.
Taking pride of place on site is an open plan kitchen area which makes all the food for the café and take out service. Frankie's has ten staff in total. This includes 3-4 experienced staff in the kitchen with a dedicated pastry chef who makes all the cakes and pastries. Plus 3-4 staff each day in the coffee shop and two additional members of
the team for weekend and holiday cover. The business also employs a full time manager who oversees the garden centre, coffee shop and retail side.
"Our approach has been to always have the best that the budget allows and we wanted to create a home from home environment that customers would enjoy coming to." Consequently the Frankes put aside £100k for the project and ended up spending close to £250k! "We underestimated the amount of equipment we would need and how much everything cost, for example the deli counters were an incredible £7k each. We could have bought second hand kit to reduce costs but we wanted to do it all properly and that comes at a price."
"On one of our fact finding trips I was given some advice by a very experienced and successful coffee shop operator who told me 'retail is all in the detail.' Frankie seems to instinctively know what customers are looking for and as such she does all the buying for the nursery. Consequently we have moved away from the traditional style of planting in uninspiring ceramic pots to more creative presentations in zinc planters and limed baskets, the sort of thing which you would expect to see on the pages of Ideal Home. So as we embarked on this project, Frankie became heavily involved in all aspects of the Farm shop, from picking suppliers, equipment and recruiting staff, to branding, promotions and designing the interior. We have taken great care in sourcing the right furniture and finishings because our thinking is why would anyone drive out here if they are not going to enjoy a fabulous lunch in beautiful surroundings. Frankie has a very clear vision of what she is trying to achieve and as a result we have taken as much care specifying the interior as we would have done at home. Whether the customer is a mum with a toddler, a businessman, a teenager, an older person or a wheelchair user, everyone would feel comfortable in our coffee shop. Given the positive feedback, putting so much effort and care in at the beginning was definitely the right approach."
In terms of the food offer, Frankie's menu includes breakfast, light lunches and teas, all made on the premises wherever practical which is a real selling point and sets the business apart from competitors. Typical menu items include stuffed field mushrooms (brown rice, Feta cheese, herbs, preserved lemons) £4.95; pork and smoked bacon kofta £5.95 and tomato and caramelised onion puff pastry tartlets £5.95, each served with a selection of deli salads.
Frankie's has just launched 'fab food for little ones' a special children's menu packed full of healthy options which is getting a big thumbs up from mums. The menu includes: handmade pizza topped with fresh tomato sauce (no salt or sugar is added but extra vegetables are!) £4.95-£5.50; Fresh tomato sauce served with pasta shapes topped with
farmhouse cheddar and rocket £4.95; Free range chicken chunkies, oven baked, fresh chicken breast chunks coated in a secret recipe crispy crumb £5.95; little cakes for pudding and a complimentary glass of organic fruit squash is included with every meal.
The choice of coffee equipment was another top priority for Marcel. "We saw the coffee equipment as an investment and when we heard about the Cimbali Bluetooth Grinder and M39 we thought it was perfect for our setup. The grinder contains smart technology which 'talks' to the coffee machine to ensure a consistent coffee quality with every brew – you can't really go wrong with it. We have weekend and part-time staff who come and go and the continuity of quality was important irrespective of who was making the coffee that day.
Cimbali provided on site training which was extremely useful as none of the staff had ever used a coffee machine before. "The M39 is very simple to operate and with the Grinder providing a safety net, then the quality of the coffee is one less thing the staff need to be concerned about when we are really busy."
Michele Cecchini, area sales manager for Cimbali who was involved in the project says "The M39 was the perfect choice for Frankie's. In an environment like this where the food offer is of such a high standard, producing a top quality cup of coffee becomes even more important – the customer would expect the coffee to also be exceptionally good. The M39 is a real workhorse of a machine which is efficient and reliable even under the most testing conditions. Smart Boiler technology boosts steam and hot water capacity by up to 30% in order to avoid down time during busy periods. Another key feature is the Turbosteam function which simultaneously delivers steam and air, allowing the heating or frothing of large quantities of milk completely hands free. The Bluetooth Grinder was also a wise choice. In a situation like this, where there is little time to learn exacting barista skills but quality is critical, the Bluetooth Grinder takes the guess work out of making a perfect cuppa every time."
The coffee menu is as you would expect, latte £2.25, cappuccino £2.25, Americano £1.95 and espresso £1.75, with tea at £1.95 and hot chocolate at £2.50 per cup. So far we have not been asked for flavoured syrups, our clientele seem very happy with a fairly basic choice of hot beverages.
In terms of marketing, Marcel advertises the garden centre and coffee shop in the local newspapers and usually spends about £600 per month. "I believe in that old saying, don't tell, won't sell' and we are lucky in that we have good quality papers which cover our area that are quite widely read. We usually take a quarter page advert in a couple
of these. It might seem a bit of a hefty spend each month but as a new venture we are aware that we need to really spread the word to get the business off the ground. We are fairly active on Facebook and will launch our own website when time allows later in the year.
We are always looking for other ways to promote the business. For instance one of the local lifestyle magazines runs retail fayres a couple of times a year. So we took some space at the winter event and promoted the coffee shop and retail food side. As well as sampling our home made food, we even took orders for Christmas hams. We collected lots of contact details for our customer database which we can use for other marketing activity." With over 6000 visitors, the show was a great success.
"I admit to having known very little about this market before we opened and it has been a real learning curve. Our projected turnover in year one is in excess of £500k. We must be doing something right because the coffee shop is full almost every day and we even have people who reserve tables for lunch. It is just incredible." Says Marcel.