Coffee to go ……in Bucks
15 November, 2013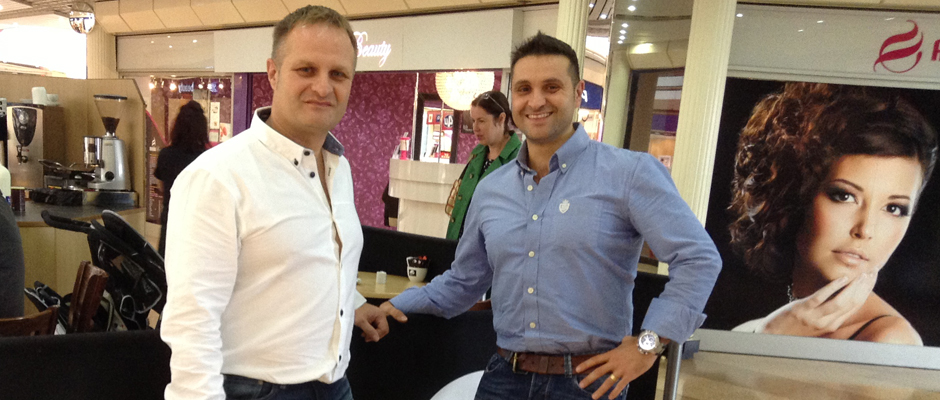 Should you find yourself delayed at Aylesbury train station on a chilly winter morning you can be assured of one thing at least, a warming cup of freshly brewed coffee at One4Six, courtesy of La Cimbali.
Run by two Italian brothers, Nick and Giuseppe Iannelli, One4Six has gone from strength to strength since opening in the town nine years ago and today has five sites across Buckinghamshire.

"We bought the Aylesbury site as a going concern and arrived to find a very dated and limited menu based on instant coffee and builder's tea from a pot," explained Nick.
Starting from such a low point gave the brothers great scope to make significant improvements across the food and beverage offer. Out went the vintage teapot and in came a traditional coffee machine and speciality coffee menu, along with an impressive selection of sweet and savoury snacks including Panini, wraps, toasties, artisan cakes and cookies.
Aylesbury is a busy commuter town and consequently One4Six sees peaks in service during the popular am and pm travel times.  "We have a regular clientele who snack on the run and they rely on us for speed of service and quality,"  said Nick.
"Having learnt the ropes at Aylesbury, when a second site with Chiltern Railways became available at High Wycombe we snapped it up," said Nick.  "Both stations have a similar customer profile and so it was easy to replicate the food and beverage offer – we knew what worked well and what to avoid."
Aside of a take out offer within train stations, One4Six also operates a seated coffee shop at the county' s Willen Lakes leisure park in Milton Keynes.  With 100 covers, One4Six offers a variety of hot food including jacket potatoes, pasta dishes, soups and children's meals.   "The clientele is very different and our peak times are weekends and school holidays  when the park is full of people enjoying the countryside and the numerous sporting activities on offer,"  said Nick.
A fourth One4Six site operates within the Hale Leys shopping centre in Aylesbury.  When an additional and much larger retail space became available next door in Hale Leys, Nick and Giuseppe saw it as an opportunity for expansion.
The new site opens out onto an area which is currently being developed by the local council that will host a new theatre and cinema complex plus children's play area.  "With so many people passing by on their way to and from the new leisure facilities, we saw this as a prime location," said Giuseppe.
A few months and a £200k refit later, the new, 100 cover coffee shop will be open in time for the Christmas sales period.   With 1200 sq metres of space over two floors, including an outside seating area, there is lots of scope.  "We plan to operate our own kitchen facility upstairs, making fresh food daily for each of the five outlets. This will deliver the quality that we demand and also generate a greater profit margin,"  explained Giuseppe.
Whilst developing the business plan for the new site, the Iannellis took the opportunity to review their finances across the whole operation.
"We have always used traditional coffee machines but instead of buying them outright, we have had rental agreements in place to help ease the cash flow and manage servicing and training requirements,"  said Giuseppe.
As the business expanded and grew from one outlet to five, Nick and Giuseppe naturally encountered more staffing issues such as managing the training cycle, covering sickness and holiday periods etc – not unusual in the hospitality industry.
"The hot beverage side is very busy and we are using 70-80kg of coffee per week at the moment.   New and inexperienced staff often had difficulties in using the grinder properly, despite investment in training. It is something that just used to get forgotten about," explained Giuseppe.
"We saw Cimbali's M39 traditional espresso machine and Magnum on Demand PGS grinder at one of the trade shows earlier in the year and thought this could be the answer for us.   The system creates a fail safe way to create the perfect espresso with every cup that is brewed and the training requirements are minimal.  "The technology adjusts the grind through the day so you never get a bad cup of coffee."  So when I now get a call saying one of my key staff is not going to be in that day, I don't panic as I know that whatever happens the coffee will still be excellent," explains Giuseppe.
Switching to Cimbali across all outlets has also meant financial benefits for One4Six.
"As we were buying a total of five machines we were able to negotiate a good price.  Coupled with the excellent training and servicing on offer form Cimbali, we are very pleased with the end result," explained Giuseppe.
In true Italian style, One4Six plan to operate an 'ice cream parlour' within the café complete with a full range of artisan gelato which they will make on the premises. Giuseppe thinks this will be "quite a draw as there is no one else in the town that offers this, despite the fact that there is quite a large Italian community in the area."
"We have high hopes for this new venture and that is reflected in the amount of money we have invested in it so far.  The plan is that we add an additional £400k to our 1 million turnover within a year of opening," said Giuseppe.
Next steps include the possibility of more sites, not necessarily in Bucks, but perhaps further afield.  Watch this space…….