The Touch Revolution has fully arrived with the successful launch of the S30!
20 May, 2016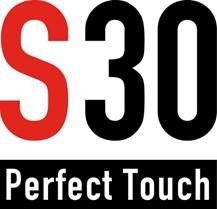 The first five months of 2016 have been really good and super busy for us! Much of this has been due to the launch of our fabulous S30 'super smart' commercial coffee machine.
We officially launched the S30 at Hotelympia at the end of February, which as the UK's largest foodservice and hospitality event with a huge focus on design and innovation, was the perfect place to do it.
The S30 invites both operators and customers to the new Touch Revolution! Our super-automatic commercial coffee machine has many distinctive unrivalled features which encourage innovative interaction with endless possibilities. These include; the revolutionary Touch Screen with 10.4" display with toughened glass, backlit RGB panel, RGB lights on the delivery area, Cimbali Smart Boiler, Perfect Grinding System (PGS), and optional motorised spout.
Users of the S30 are easily able to optimise the beverages they offer as the IoT (Internet of Things) technology puts them in full control to deliver espresso coffee-based drinks simply and intuitively every day.
The S30 momentum continued to our next show – The London Coffee Festival, at the beginning of April. The interest building in this commercial coffee machine was really incredible, with people expressing that it had really taken coffee machines to another level and was the perfect choice for baristas operating in quick service environments where their machine needs to perform under pressure. There was plenty of talk around this extremely powerful machine, particularly about its self-serve mode, bi-directional Wi-Fi, easy maintenance, cleaning and cold touch steam wand.
Our superb S30 commercial coffee machine is available in three different versions:
1. Turbo steam equipped with coffee delivery spout and cold touch steam wand
2. Cappuccino equipped with Milk PS system giving the option of snow milk
3. Cappuccino and Chocolate equipped with easy to clean mixing system
We are extremely proud of the way that the coffee industry has embraced the S30 which has joined our comprehensive range of top quality equipment, all delivering a consistent in cup quality across the speciality menu.
If you haven't experienced the unique features and benefits of the S30 yet, then we are very happy to show it off to you! Please contact us on  to arrange a personal demonstration on: 0208 238 7101.